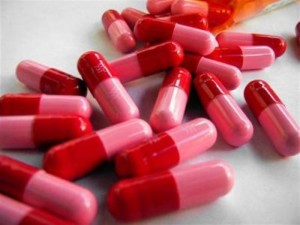 On March 14, 2013, Congresswoman Louise Slaughter introduced legislation that aims to address the alarming problem of antibiotic resistance in the population. The bill, the Preservation of Antibiotics for Medical Treatment Act (PAMTA), would phase out the use of eight medically important classes of antibiotics including penicillin, tetracycline and cephalosporin, among others, used for growth promotion, feed efficiency, weight gain, or disease prevention in food animals. Antibiotics would still be available for the treatment of sick animals.
The increasing ineffectiveness of antibiotics in humans is a serious public health problem which is inextricably tied to feeding food animals low doses of antibiotics to promote growth and negate the hazardous conditions created by the factory-style practice of confining large numbers of animals into overcrowded containment areas. (See our coverage of the antibiotics resistance issue).
Data released just this February shows an increase in the already high sale numbers of antibiotics used on food animals–to the tune of 29.9 million pounds for meat and poultry production in 2011. Compare this to the 7.7 million pounds of antibiotics sold for human use in 2011, according to data from Pew Charitable Trusts. Stated differently, approximately 73 percent of antibiotics sold in the United States were intended for food animals.
It is beyond argument that there is a "definitive link between the use of antibiotics in food animal production and the crisis of drug-resistant infections in humans." The Pew Charitable Trusts has compiled hundreds of studies dating back to 1969 demonstrating the connection between sub-therapeutic antibiotic use in food animals to the growing public health crisis of human antibiotic resistance.
Moreover, the Food and Drug Administration (FDA) has acknowledged for over 35 years that the widespread use of certain antibiotics in livestock for purposes other than disease treatment poses a threat to human health but has failed to effectuate meaningful change.
"Antibiotic resistance is a major public health crisis," said Rep. Slaughter in an introductory statement to the legislation. She further noted that:
Every year, two million Americans acquire bacterial infections during a stay in a hospital or long-term care facility. In the past, these infections were easily cleared with antibiotics. Now, as many as 100,000 people will die each year from these infections because 70 percent of them are resistant to one or more of the drugs commonly used to treat them.
Exacerbating the problem of antibiotic resistance are the multi-drug resistant bacteria, or CRE (carbapenem-resistant Enterobacteriaceae), referred to "nightmare bacteria," by Centers for Disease Control Director, Dr. Thomas Frieden. "Our strongest antibiotics don't work and patients are left with potentially untreatable infections," stated Dr. Frieden recently in a press release.
England's Chief Medical Officer's assessment of the situation was no brighter. "Global action is needed to tackle the catastrophic threat of antimicrobial resistance, which in 20 years could see any one of us dying following minor surgery," she stated earlier in the month.
Last year, the Director-General of the World Health Organization painted a similar apocalyptic scenario if antibiotic resistance in the population is not taken seriously. She warned that we could be facing "an end to modern medicine as we know it. Things as common as strep throat or a child's scratched knee could once again kill."
"Any effort to stop the growth of antibiotic-resistant bacteria must address the overuse of antibiotics in food-animals," stated Rep. Slaughter in her statement to Congress. U.S. lawmakers, however, appear unready or unwilling to adopt even small measures that would go towards addressing this serious health crisis. For example, last week the Senate Health, Education, Labor and Pensions (HELP) Committee was considering the five year renewal of the Animal Drug User Fee Act, a law that allows the gathering of important information on drug sales on animal farms. Many groups, including the Pew, urged the Senators to include provisions that would improve the FDA's annual reporting of antibiotic sales for use on industrial farms. The committee, however, failed to include those provisions. Laura Rogers, Project Director at the Pew Campaign on Human Health and Industrial Farming, expressed disappointment in the committee that is "charged with protecting the public's health," saying that "it failed to seize its best opportunity to shine more light on practices that are breeding drug-resistant bacteria."
PAMTA has been introduced four times since 2007. It has support from over 450 organizations, including public health organizations, scientists, the World Health Organization, American Medical Association, state medical societies, National Academy of Sciences, Farmer Justice as well as small farmers across the United States.