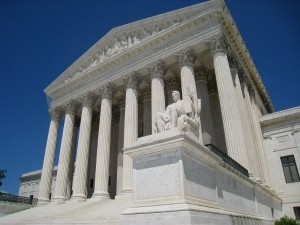 Last week the Supreme Court declined to hear the case brought by organic and conventional farmers, seed growers and agricultural organizations (Farmers) against Monsanto. The lawsuit sought protection for Farmers who wish to avoid using or selling genetically engineered seeds from accusations of patent infringement by the agri-giant in cases of seed contamination. The lawsuit also sought a judicial declaration of invalidity for 23 of Monsanto's patents. See our entire coverage of the lawsuit and the claims raised by Farmers here.
The Supreme Court's decision not to hear the case means that the Farmers' case will not be reinstated nor decided on its merits and the decision from the Court of Appeals stands.
During litigation, Farmers argued that while they do not wish to use Monsanto's seeds they are nonetheless at grave risk of doing so unintentionally-and face costly litigation-because their crops are extremely vulnerable to contamination. Moreover, both the lower court and the Court of Appeals acknowledged that some contamination is "inevitable." The Court of Appeals further found that "[t]here is [] a substantial risk that at least some of the [Farmers] could be liable for infringement if they harvested and replanted or sold contaminating seed." 
In fact, between 1997 and 2010, Monsanto brought approximately 144 patent infringement suits while approximately 700 other cases were settled without litigation. Farmers argued throughout the case that due to fear of litigation from Monsanto and given that GE seed contamination is not visible to the naked eye, they were compelled to forgo full use of their land and adopt burdensome genetic testing in order to avoid being contaminated.
The lower court dismissed the case largely on grounds that the Farmers were not yet contaminated despite recognizing that some contamination is "inevitable." On appeal, the Court confirmed that any amount of transgenic seed contamination makes the Farmers potentially liable for infringing Monsanto's patents on the seed, saying, "our cases suggest that one who, within the meaning of the Patent Act, uses (replants) or sells even very small quantities of patented transgenic seeds without authorization may infringe any patents covering those seeds."
The Court of Appeals also recognized Monsanto's aggressive litigation tactics but nonetheless affirmed the lower court's dismissal. But the Court of Appeals differed with the lower court in its reasoning for the dismissal. "It is because the court of appeals found the likelihood of contamination and resulting infringement accusations sufficiently threatening that it issued a uniquely qualified opinion," argued the Farmers in its Supreme Court briefs.
The Court of Appeals relied on and bound the company to its representations not to sue for contamination up to 1%. "Monsanto's representations," concluded the Court of Appeals, "unequivocally disclaim any intent to sue appellant growers, seed sellers, or organizations for inadvertently using or selling 'trace amounts' of genetically modified seeds." The court further stated that "[w]hile Monsanto's representations are not a covenant not to sue, they have a similar effect."
But Farmers argued that is not enough. Even if the initial contamination could be "trace", asserted Farmers in their Supreme Court briefs, just a few seasons of replanting harvested seeds from a previous crop can result in contamination well above 1%.
Daniel Ravicher, Executive Director of the Public Patent Foundation (PUBPAT) and lead counsel to the Farmers the case stated in a press release,
in light of the Court of Appeals decision, Monsanto may not sue any contaminated farmer for patent infringement if the level of contamination is less than one percent. For farmers contaminated by more than one percent, perhaps a day will come to address whether Monsanto's patents may be asserted against them. We are confident that if the courts ever hear such a case, they will rule for the non-GMO farmers.